Hello everyone and anyone,
The last couple weeks I've set a couple important steps with Eniko: Ghosts Of Grace. after setting up the website and social media a couple weeks ago and preparing screenshots, gifs and informational texts about the game, it was time to present Eniko to the public for the first time. I'm only starting small: I shared it with some friends in the RPG Maker and indiedev communities and shared the project on one forum, Itch.io and a couple GIF's on Imgur. I wanted to see what the initial reactions were before rolling the game info out on more forums, subreddits, 9gag etc.
Honestly, I'm VERY stoked about the reactions which are pretty much all positive. People like the retro 3D look and call it charming and original even it might be a little quirky sometimes. There are even some composers who present themselves as fans and willing to work for the game. People also seem to be intrigued about the story, which for now I tried to keep a bit on the low. And the visual style has been compared with titles like Breath Of Fire 3 and Octopath Traveller.
Anyway, this is all I could hope for really, and it's exhilarating  to see the first reactions and followers coming in on my own social media pages like Itch.io, Imgur, Facebook, Twitter etc. The motivation to work even harder is certainly there!
Another point, I have decided to divide my blog posts into 3 categories: Updates, Devlogs and Tutorials. Updates will be informational announcements about the game (e.g. Demo is downloadable now here, YouTube channel is now online here, etc.) In devlog posts I will look back on the last couple days/weeks of development and touch any subject that has to do with making the game. Could be marketing, time management, finding inspiration etc. In Tutorial posts I will post… tutorials. These will mostly have to do with the awesome MV3D plugin, the backbone of this project.
Having said that, I am happy to announce I found an amazing artist to work with for character art etc. to use for Eniko: Ghosts Of Grace. Any placeholder art should be replaced by custom art in the following weeks. Kato A is an amazing artist and her art matches the game perfectly. It works really well with the mid 90's aesthetic of the game. Please check out her art here: https://forums.rpgmakerweb.com/index.php?threads/full-katos-little-shop-art-and-pixel-art.115785/ and here: https://www.instagram.com/kato15s/
First up is ofcourse Livia, the main character of our game. The colored version is still being finished up but I'm very happy to share the line-art version to you here and now!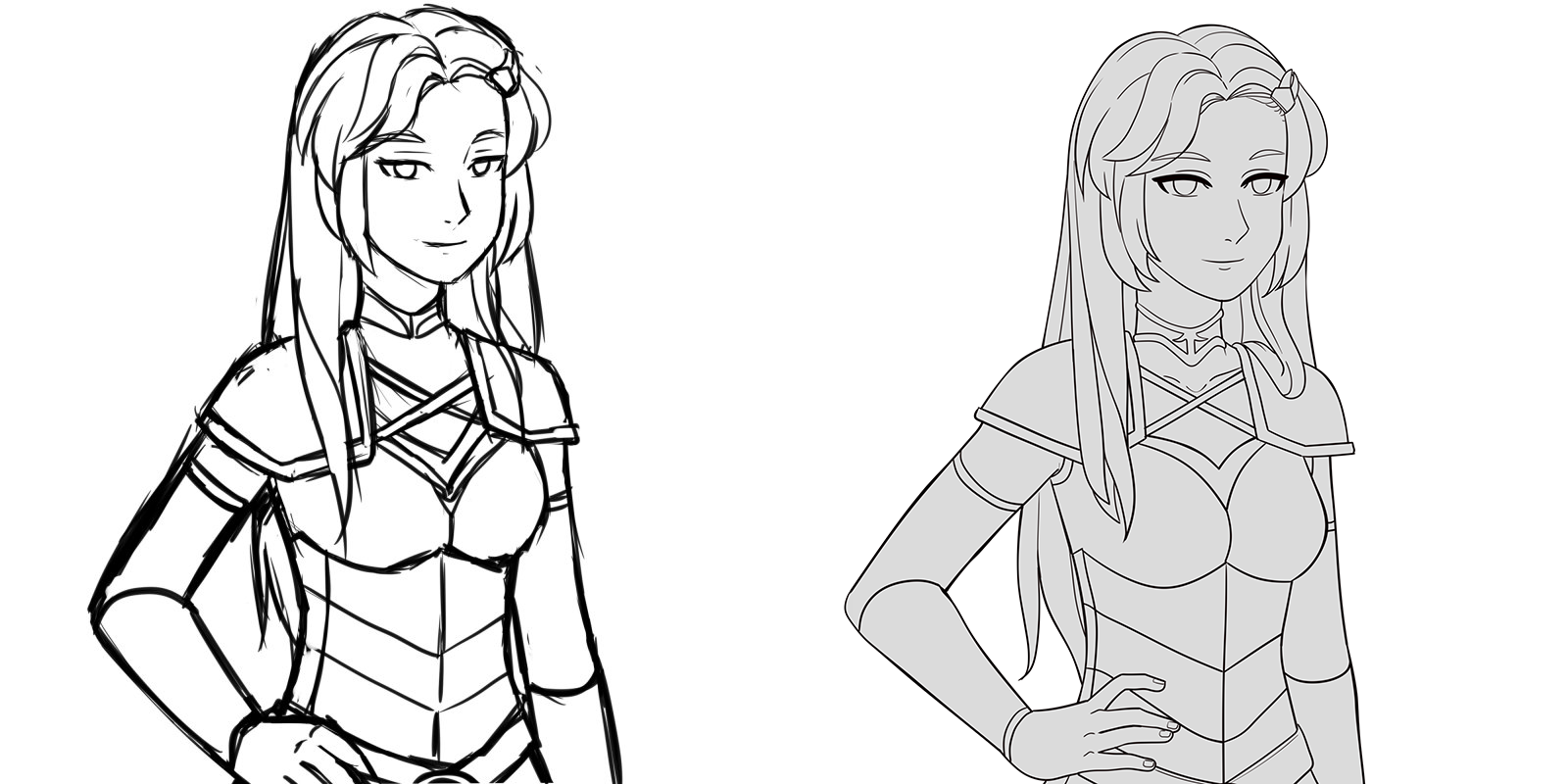 Another important step for the game, because having this character art means I'm gonna start up the YouTube channel too, which will consist of gameplay previews and the soundtrack for now and tutorials later. But more about that later.
Stay safe and enjoy your holidays!